Pittsburgh Pirates Swept in Season Series Against Atlanta Braves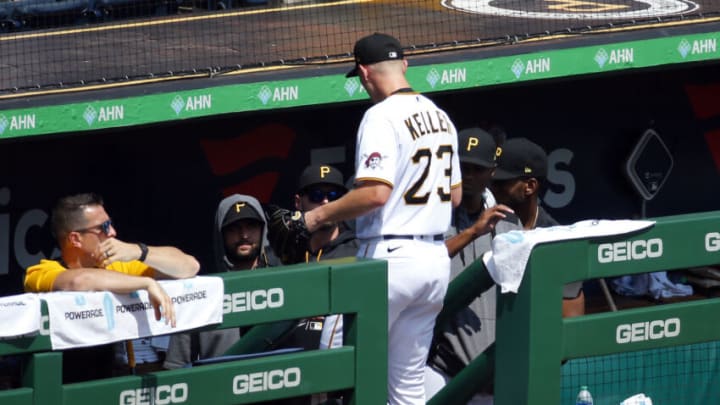 PITTSBURGH, PA - AUGUST 24: Mitch Keller #23 of the Pittsburgh Pirates walks off the field after being removed from the game in the fourth inning against the Atlanta Braves during the game at PNC Park on August 24, 2022 in Pittsburgh, Pennsylvania. (Photo by Justin K. Aller/Getty Images) /
For the first time in franchise history the Pittsburgh Pirates have been swept in the regular season by the Atlanta Braves
The struggle that has been the 2022 Pittsburgh Pirates continues to be well, a struggle. Wednesday afternoon the Pirates were blown out by the Atlanta Braves by a score of 14-2 completing a series sweep for Atlanta.
With the series sweep, the Pittsburgh Pirates will finish the season 0-7 against the Braves. This marks the first time in franchise history that the Pirates have been swept in their regular season series against the Braves.
Being swept by a team in the regular season for the first time ever is not the type of history a team wants to make. Unfortunately, this is not the only bad history the Pirates are making this year. In addition to have one of the worst offensive seasons in MLB history with runners in scoring position, at 47-77 the Pirates are on pace for 101 losses as they continue to spiral toward one of the worst three-year stretches in franchise history.
Mitch Keller started for the Pirates on Wednesday afternoon and turned in his poorest start in some time. Keller last just 3.2 innings, allowing 7 runs on seven hits, two walks, five strikeouts and a home run.
Across the final two games of the series Pirate starters took their lumps. Keller and JT Brubaker allowed 14 runs in 11 innings pitched. At this point, the Pirates were already sunk in both games on their ways to being swept.
The series was a hodgepodge of struggles for the Pirates. Their offense struggled in all three games at the Pirates scored just four runs in the series, including scoring just one run each in the first two games.
Outside of a 2-1 loss on Monday night, the Pirates were largely uncompetitive in the series. Over the course of the final two games of the series the Braves outscored the Pirates by a combined score of 21-3.
While the starting pitching was great for the Pirates in game one, JT Brubaker had a poor 5th inning in game two and Keller was hit hard in game three. Games one and two were good for the Pirate bullpen, but, led by a Colin Holderman and Cam Vieaux combining to allow 7 runs in the 8th inning, the bullpen took its lumps in game three.
Again, a hodgepodge of struggles for the Pirates.
The Pittsburgh Pirates get a much needed day off on Thursday. After that, they travel to Philadelphia for a three-game series with the Phillies who are in the thick of the NL Wild Card race. So, things will likely continue to trend in the wrong direction for the Pirates this weekend.